News
Annual Report on Competition Policy Developments in Iceland 2010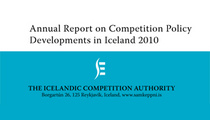 The Icelandic Competition Authority publishes its annual report for the year 2010. A detailed report in Icelandic is available. This report wraps up activity of the ICA for the last year.
The report in PDF format.
The ICA has sought to send a clear message through its enforcement of competition law. Since the beginning of 2010 the ICA has fined 10 companies a total of approximately 7.6 m EUR for collusion or abuse of a dominant position. From the beginning of 2010 to the present date (June 22. 2011) the ICA has intervened in 20 mergers, where conditions have been imposed (see chapter 2).